Updated: June 1, 2022
Home > Greece > Best Hotels in Santorini
1. Vora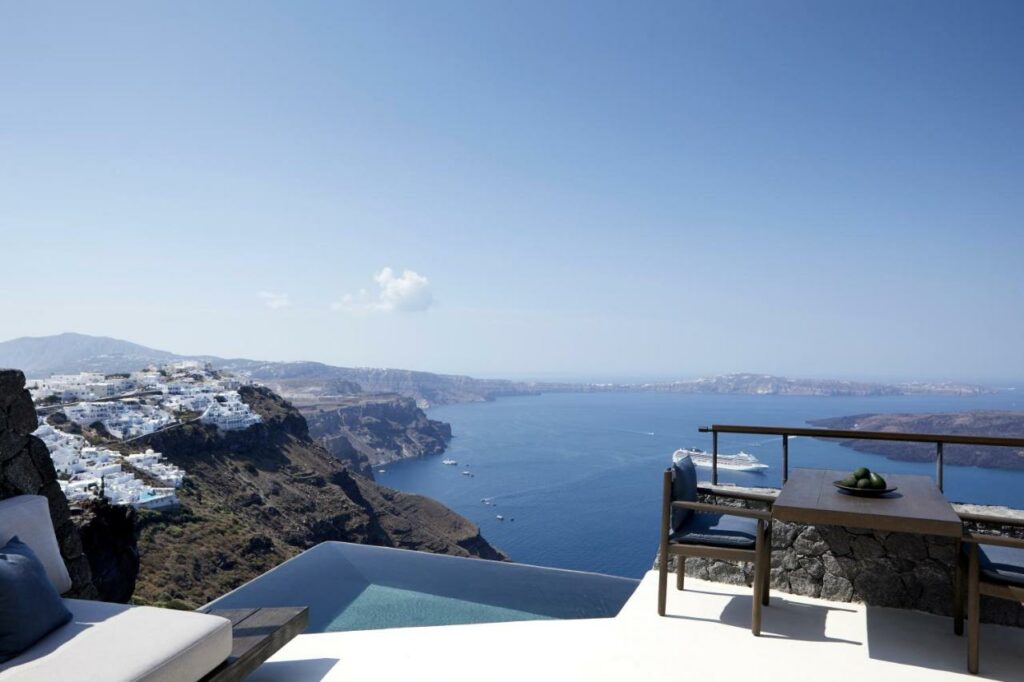 Located on the edge of the caldera in Santorini, Vora is a handcrafted boutique hotel of three private villas carved into caves, cliffs, and suspended high above the sea. Magnificent views, solitude, exceptional service, and warm hospitality are signature factors of Vora. Moreover, it's all topped with the utmost privacy to guarantee an unforgettable holiday.

The design concept is based on the volcanic rock and the traditional local vernacular. All villas secure guests with comfort and a relaxed lifestyle. Literally carved out of the mountain, each villa is carefully angled to take in the sunset from a unique viewpoint, and guests' privacy is also maintained.
2. White Pearl Cavalieri
White Pearl Cavalieri is a luxurious hotel made concerning the natural landscape and the original primitive architecture, narrates the story of a land of wines and vineyards. The estate hosts a distinguished variety of grapes known to the locals as 'Cavalieros.'
Six suites complete with private heated pools and plunge pools. 'Hydria Area' stands out with its sparkling infinity pool and pool bar offering unforgettable Caldera and sunset views.
Moreover, here you can enjoy the first-class SPA with a wide range of massage services.
3. Grace Hotel Santorini, Auberge Resorts Collection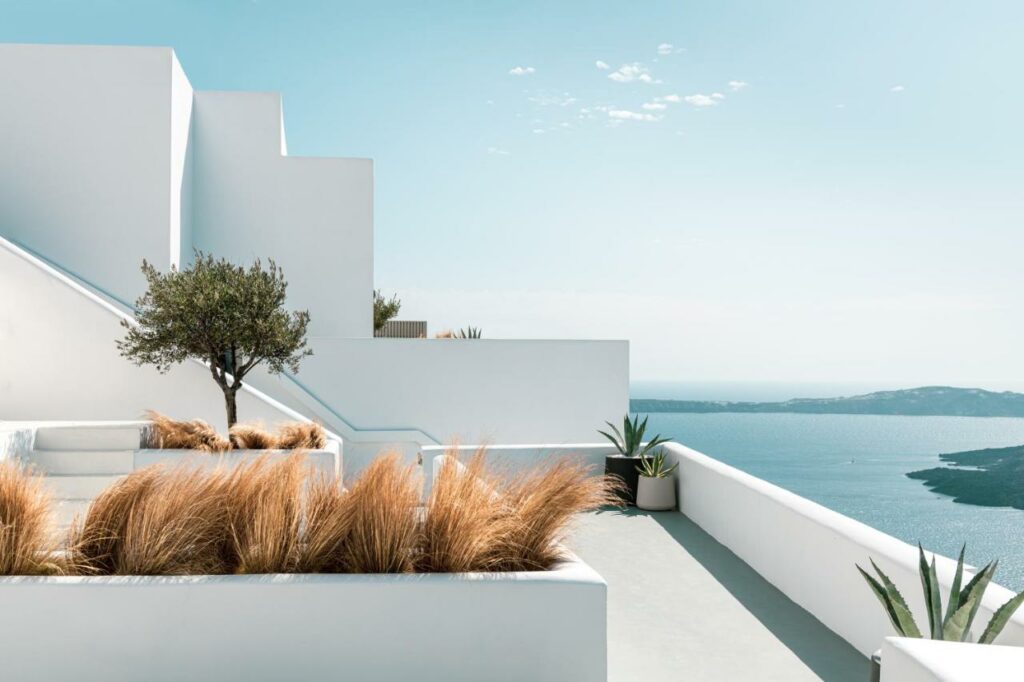 Blessed with its own beach on the most cosmopolitan island of Greece the WILD offers privacy and Grace Hotel is a cliff-top retreat in Santorini. Whitewashed luxurious rooms, suites, and villas, ranging from 50 to 400 square meters, embrace Santorini's sensual sophistication and seaside splendor, blurring the lines between indoor and outdoor with clean lines and natural materials. All come with expansive indoor-outdoor spaces featuring heated plunge pools opening to sweeping views of Santorini's emblematic caldera.
4. Cavo Tagoo Santorini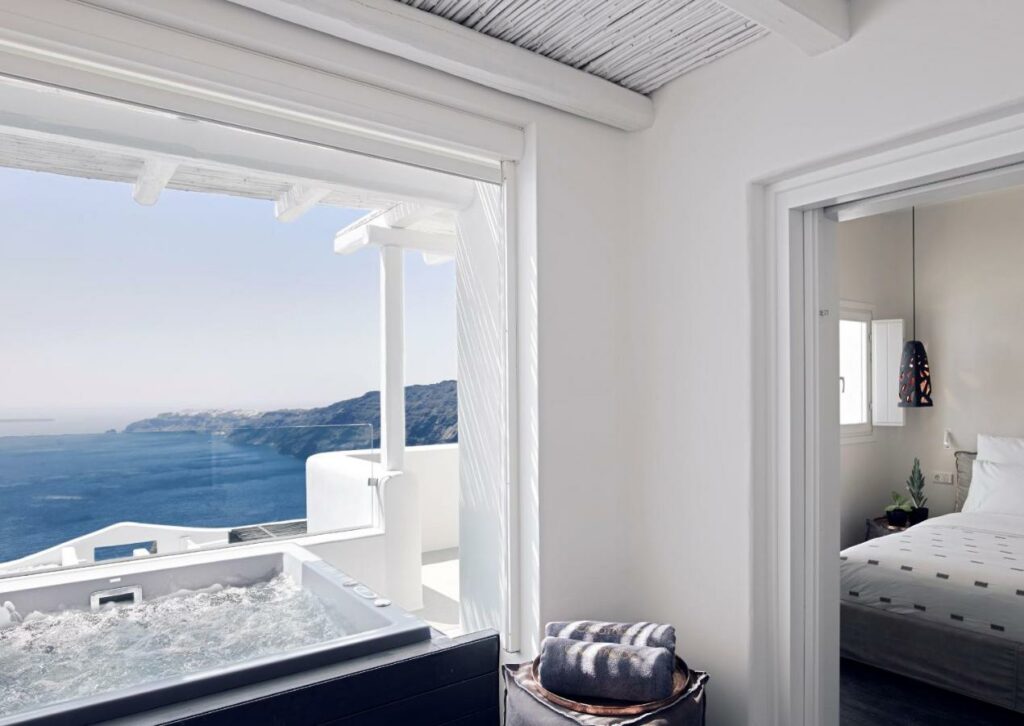 Luxurious villas at Casa Del Mar Mykonos Seaside Resort, a proud member of the Small Luxury Hotels of the Cavo Tagoo Santorini is an excellent hotel offering luxurious accommodation with outstanding Santorini sunset views. The modernly designed suites feature either a hot tub or a private pool. The high-class Vezenes restaurant serves Greek-inspired open-fire grill cuisine in its elegant interior or on the terrace. At the same time, guests can also enjoy cocktails, refreshments, and light meals at the hotel's signature pool bar.
5. Stella Rocca A Mare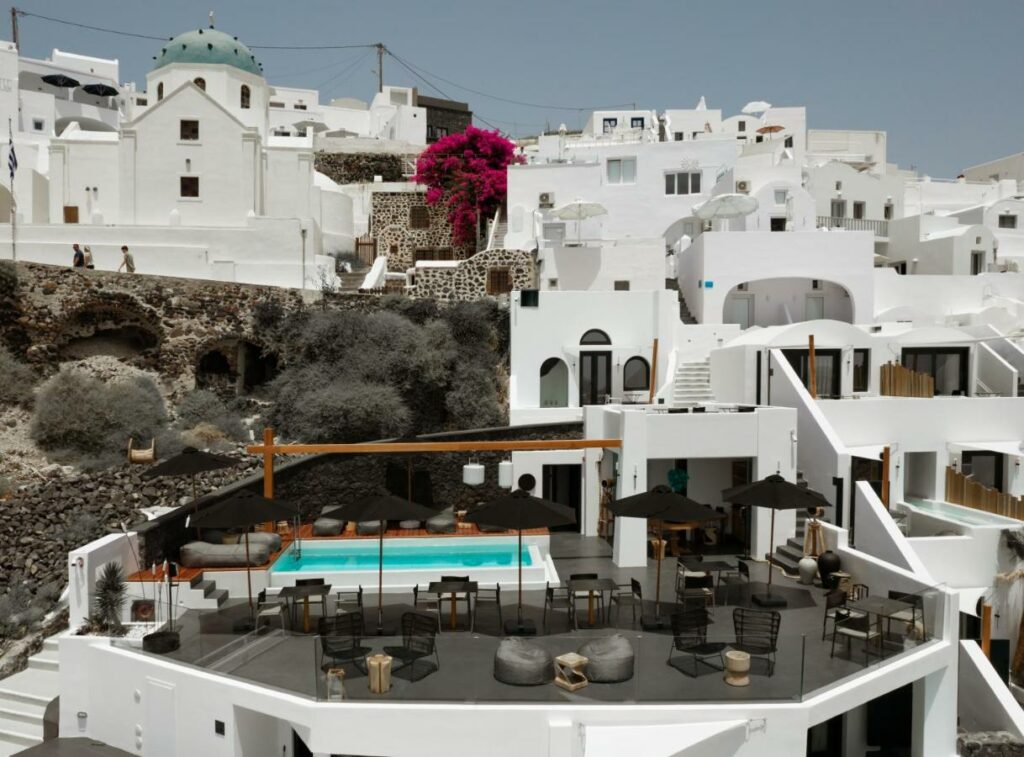 Ideally located on a Cliffside across the Caldera, the brand new boutique hotel Rocca a Mare, a member of Stella Hotels Collection, offers magnificent panoramic vistas, complete indulgence, personalized services, setting the stage for rare, immersive, and distinctly unforgettable lifetime experiences.
Accommodation designed to take full advantage of the brilliant Aegean light, the rooms are spacious and airy, with fabulous shaded terraces to enjoy tranquil moments and panoramic views of the sea. A private outdoor heated Hot Tub completes the dreamy backdrop.

Read more
Best hotels with pools in Athens
Best luxurious villas and apartments in Athens