Updated: June 1, 2022
Home > Greece > Best Instagramable Hotels in Mykonos
1. HABITAT Mykonos All Suite Hotel
"Get the celebrity treatment with world-class service at Habitat Mykonos All Suite Hotel"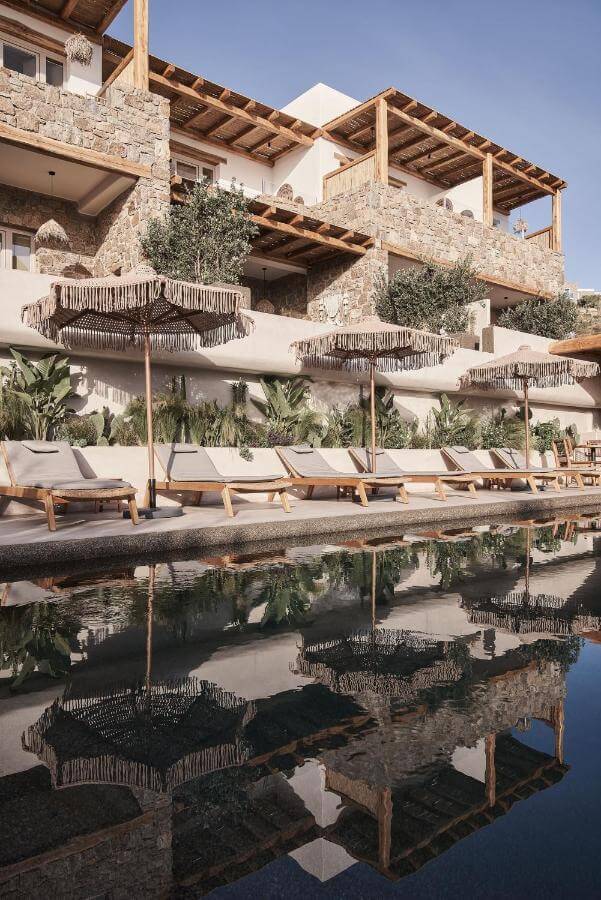 HABITAT Mykonos is a perfect choice for those who want to create Tulum-style photos. This hotel has plenty of places to take a great shot – rocky walls for a sleek minimalistic aesthetic of your Instagram, palm trees and cactuses as a green accent, a jacuzzi and big pool for showing your followers a new bikini, a fantastic private beach for sunny pics with cocktails and, of course, top-notch ROOMS which are an ideal place for a signature photo in bed or making a new REELS of your skin-care routine at the authentic bathroom.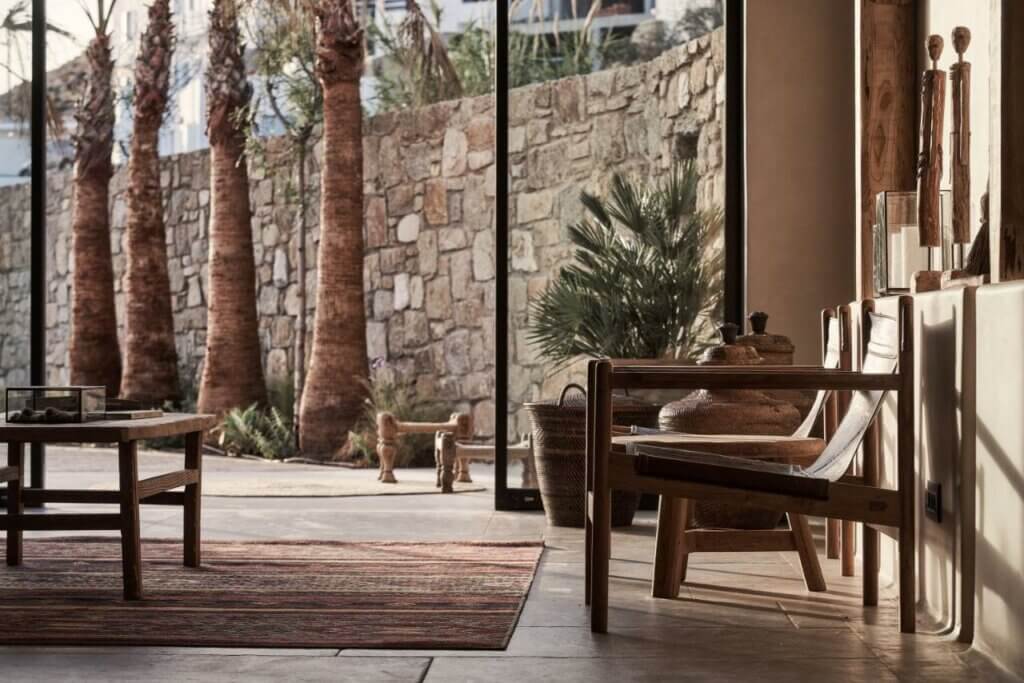 Luxurious and at the same time minimalistic interior design with adorable rustic decor makes it easy to make unique content for your feed. Pay attention that some rooms have an open shower, and believe us, it is a must-have photo for your social media!
Take a note: if you are seeking a typical Greek background (white walls with bright blue windows), HABITAT Mykonos is not the right place to stay. HABITAT Mykonos is about warm monochrome colors, simplicity, and natural materials.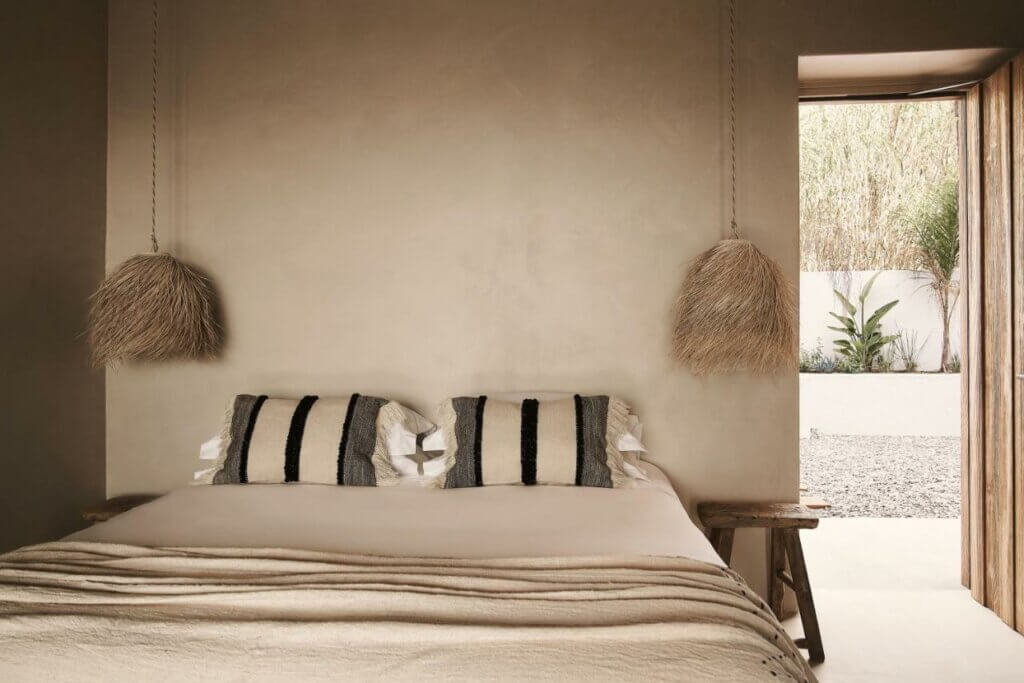 WHAT ABOUT FACILITIES?
WELLNESS
FITNESS
CONCIERGE SERVICE
2. Charisma Hotel and Wellness Suites
"A unique oasis in the heart of Mykonos where luxury hospitality blends with earthy creations"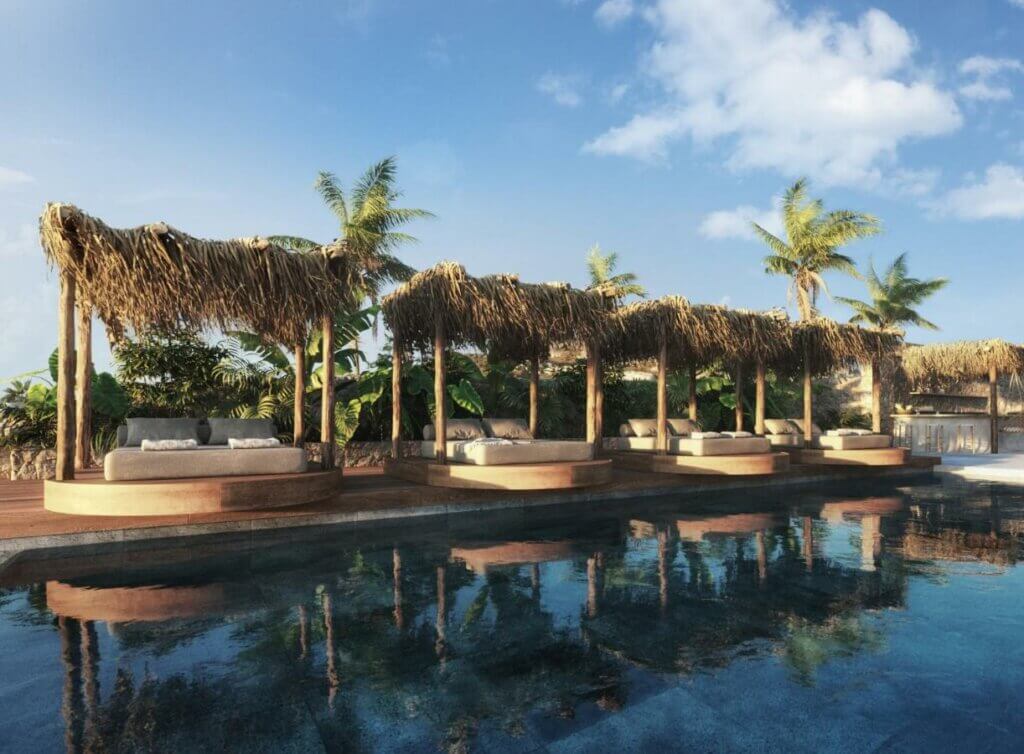 Charisma Hotel and Wellness Suites is located at the top of a private valley and offers a panoramic view of the local landscape and the Aegean sea. Isn't it a perfect place for ultimate relaxation and a few lazy days by the sea with a cocktail? Of course, it is, as well as an ideal choice for a photoshoot since Charisma Hotel combines exceptional architecture with earthy materials to generate an organic vibe for each visitor.
I have great news for you, almost all Suites feature stunning garden terraces with a private pool and sea view. In case the private pool and luxurious golden bathtub are not enough to fulfill your vacation fantasies, I highly recommend booking a Superior-level Suite with Sea View and Private Balcony Jacuzzi featuring a stunning superior-level balcony with a sea view and a private luxury outdoor jacuzzi. It is impossible not to fall in love with the decor, facilities, and feeling of ultimate privacy.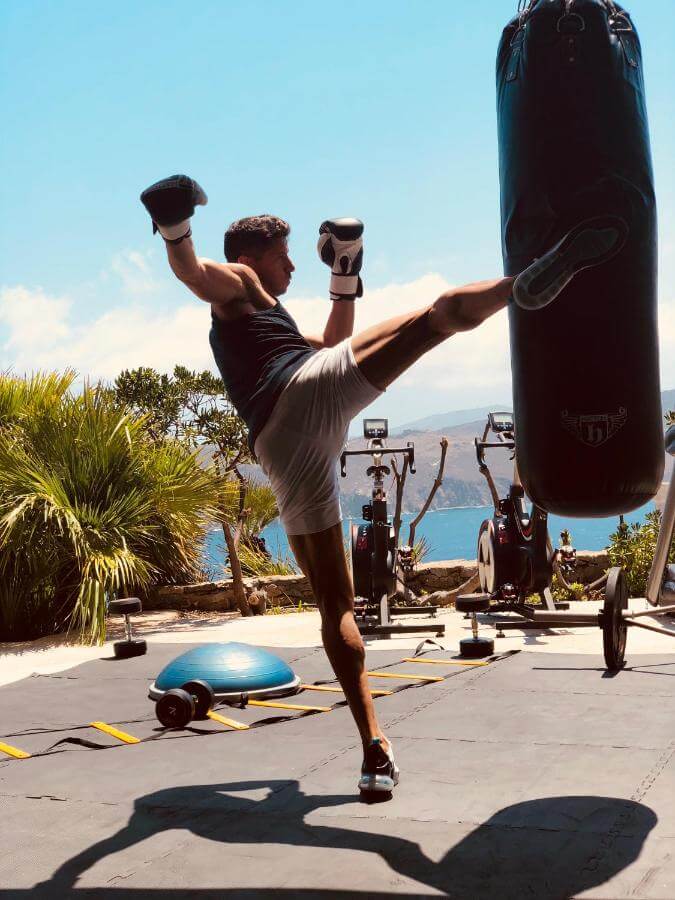 High-end indoor and outdoor facilities include a heated hydrotherapy pool for swimming, a hot tub for hydro-massage, and state-of-the-art gym equipment for strength & conditioning. Choose whatever matches your vibe, whether that is morning yoga on the beach, indoor yoga classes, or the ultimate outdoor experience – sunset yoga!
WHAT ABOUT FACILITIES?
WELLNESS SERVICES
PRIVATE YACHT CRUISE
BEACH CLUB
FITNESS FACILITIES
"More than a boutique luxury resort, Charisma is a concept that redefines the Mykonos experience for creatives, explorers, and holidaymakers."
3. Mykonos Earth Suites
"The brand new Mykonos Earth Suites, ultra-modern & minimal chic, promise guests tailor-made genuine hospitality!"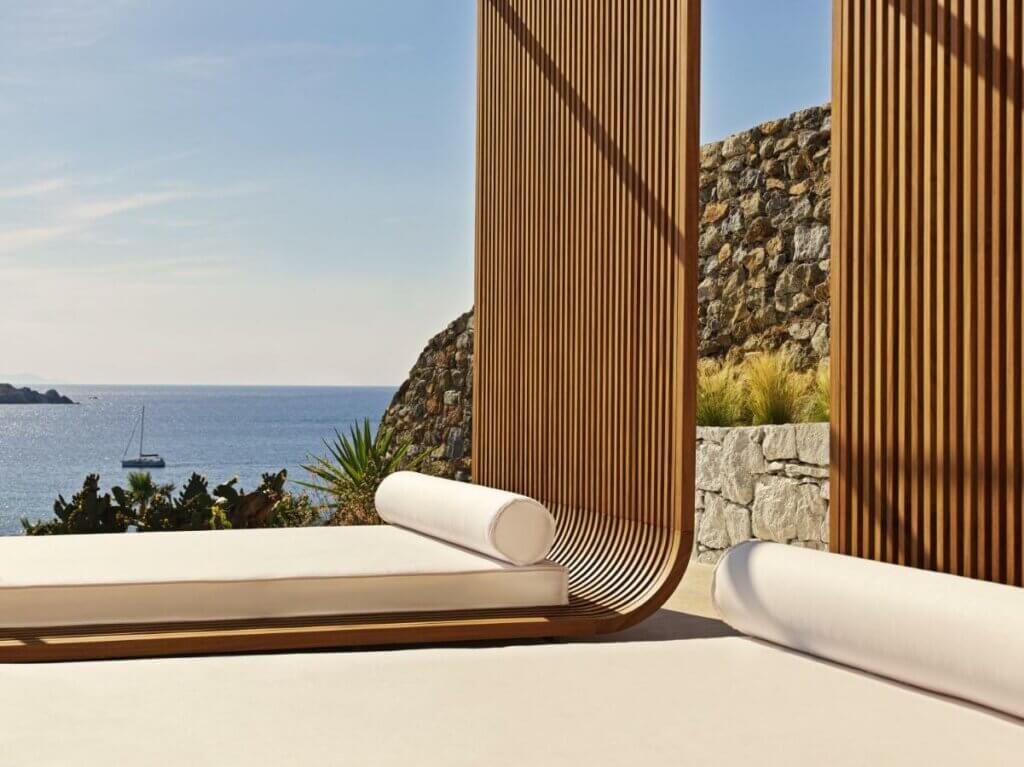 Mykonos Earth Suites is a luxurious brand-new property located on Megali Ammos beach within walking distance from Mykonos Town.
This ultra-modern and minimal-chic hotel comprises 15 luxury Suites, all of them having their private open-air pool, and one of them features a Jetted Tub.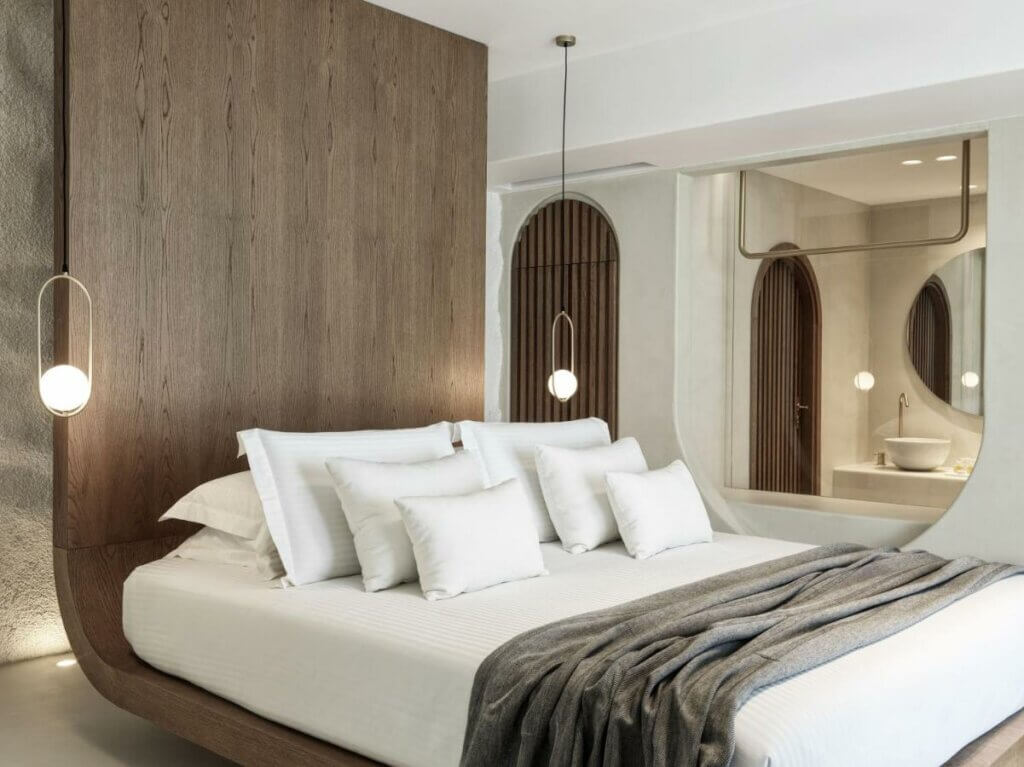 You will like the gorgeous grounds with a spacious central pool and a luxurious pool bar with a perfect view and a unique landscape of Mykonos.
This place is a perfect destination for photo lovers. Look at the design; everything is made from local stone and is perfectly integrated with the natural landscape, while all architectural elements follow the primary lines of the surrounding environment. WOW!
Mykonos Earth Suites is about natural materials, wood, and in-house minimalistic furnishings, ultra-modern luxury bathrooms with rain showers, linens, and smooth textures in earthy colors, warm light, and the finest in a contemporary style to create the ultimate relaxing ambiance.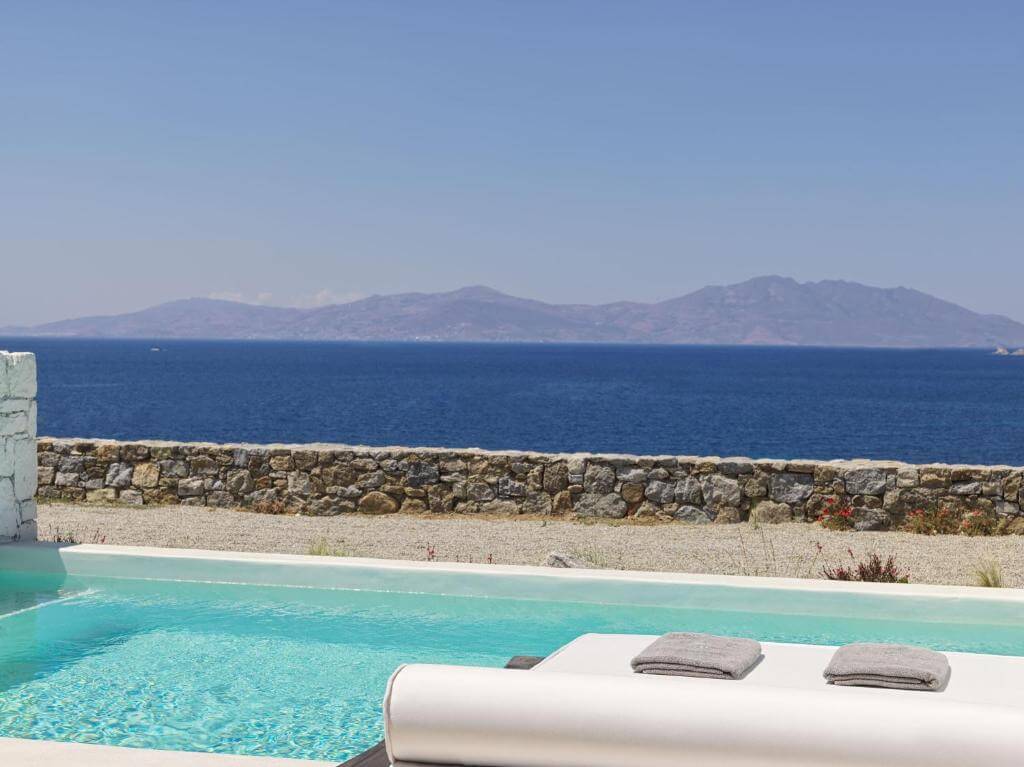 WHAT ABOUT FACILITIES?
MODERN CHIC SUITES
ADULTS ONLY HOTEL
TAILORMADE CONCIERGE SERVICE
AUTHENTIC GREEK HOSPITALITY
"Enjoy an authentic Greek island experience in privately sheer relaxation & discover the lifestyle of world-famous Mykonos."
4. Bonzoe Homes & Villas
"Simply a celebration of the minimal Cycladic design, with charming interiors accented with top-of-the-line conveniences."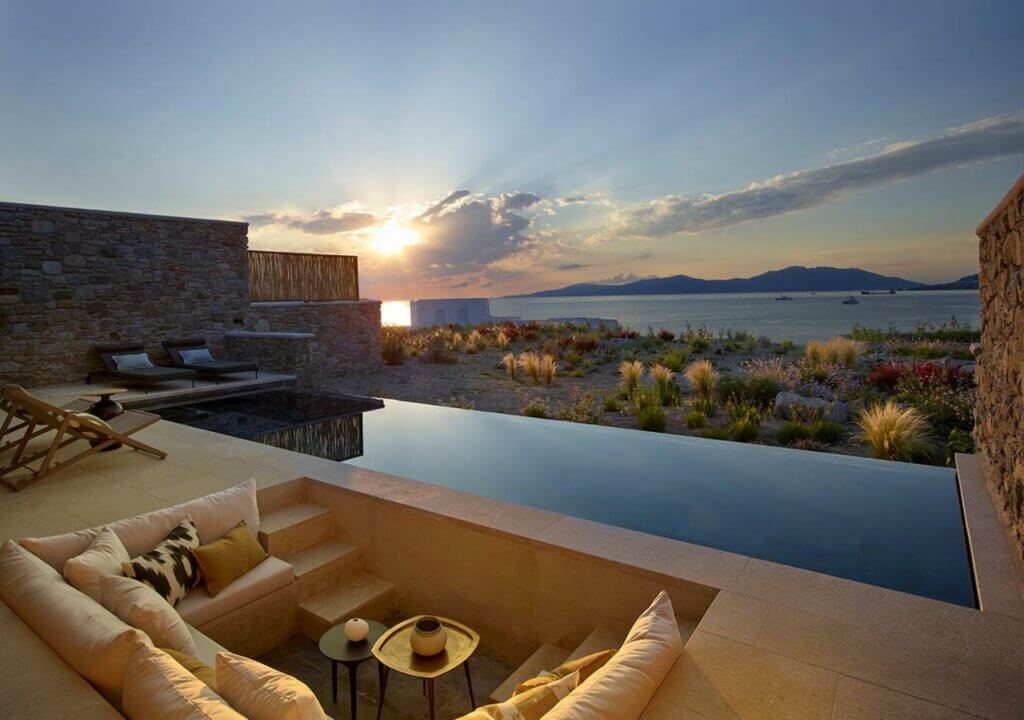 Athens Lodge is a beautiful modern hotel located near the hottest spots in the lively part of Athens Choose a brand new luxurious complex of homes & villas which are designed to provide the sense of island living at its best with all the comforts of home. With the cozy ambiance at Bonzoe, you'll know you've arrived at your very own home-away-from-home.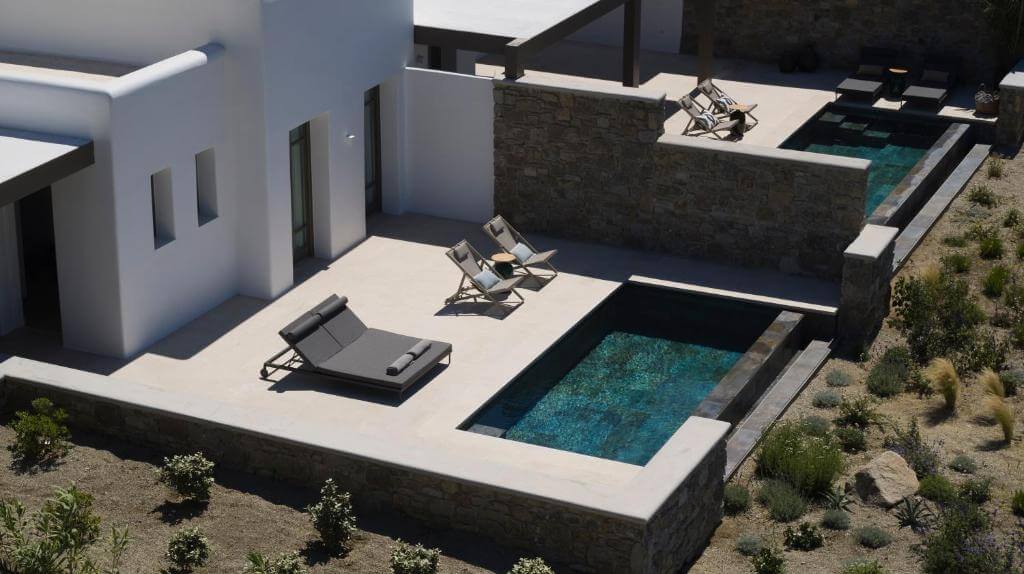 Located at Megali Ammos beach, Bonzoe offers breathtaking views of the well-known Windmills, the white-washed Mykonos center, and the deep blue of the Aegean Sea.
WHAT ABOUT FACILITIES?
TRANSFER
HELICOPTER & YACHT HIRE
RESTAURANT & BAR RESERVATIONS SERVICE
LAUNDRY SERVICES
PRIVATE CHEF
"If you're looking for warm yet refined hospitality, you've found the right accommodation in Mykonos. At Bonzoe villa, every moment is one to savor."
5. Bill & Coo Suites and Lounge -The Leading Hotels of the World
"It's a place for walking around barefoot, soaking up the views and energy of neighboring Delos Island, for jumping into the crystal clear waters from the beautiful, exclusive stretch of beach."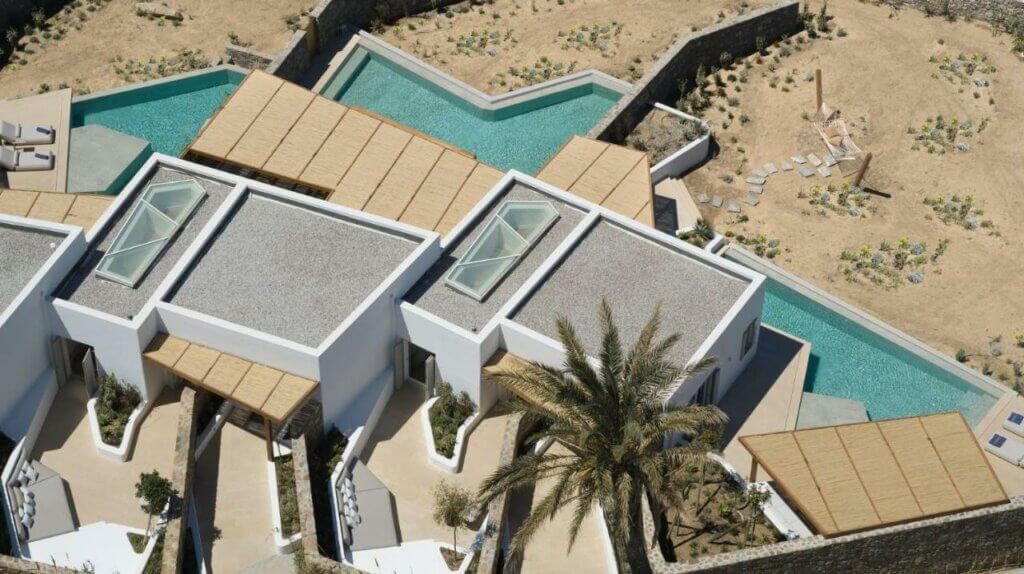 Bill & Coo Suites and Lounge offers an intimate sea-­view escape in one of the spacious Suites, with their own hot tubs and pools. Natural décor allows the colors of the island to flood into the room, with abundant light all day long.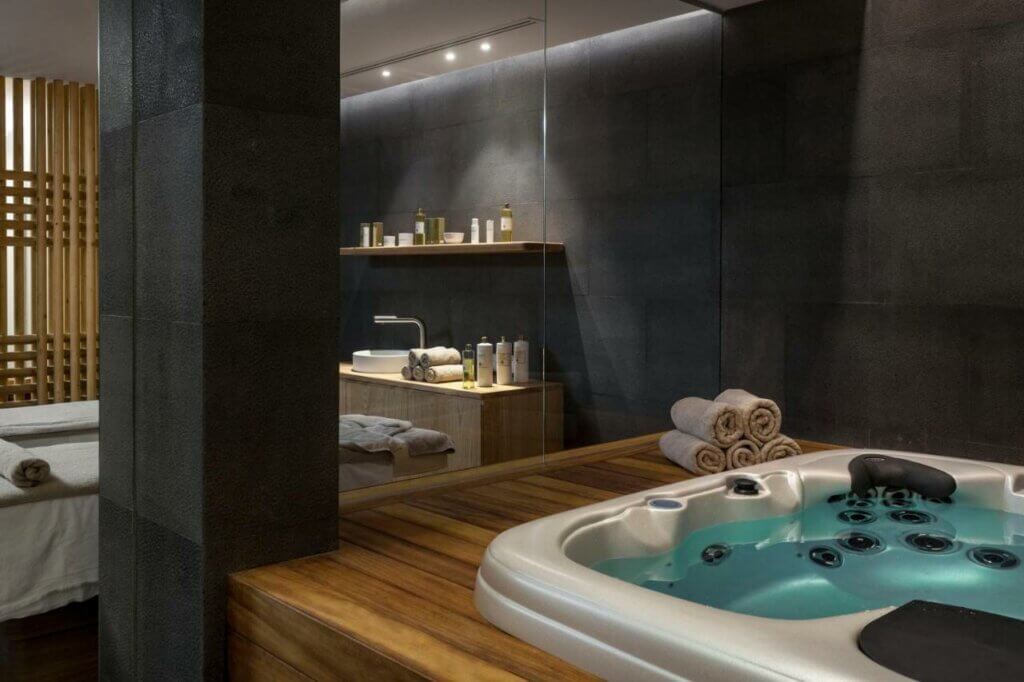 The Valmont Spa reflects a sophisticated approach to beauty and relaxation with an inspired blend of luxury and comfort. It is a sanctuary of wellness and care where guests can feel relaxed and rejuvenated.
WHAT ABOUT FACILITIES?
THE BEACH
FITNESS
CONCIERGE
24-HOUR ROOM SERVICE
TRANSFER SERVICE
VALMONT SPA

Read more
Best hotels with pools in Athens
Best luxurious villas and apartments in Athens